GYRO Metal Double Horse 9051 Eagle 3.5CH Electric RTF Remote Control RC Helicopter
---
Currently unavailable.
We don't know when or if this item will be back in stock.
Enter your model number

to make sure this fits.

Design delivers optimal characteristics for beginners.

Omni-directional flight: ascending, descending, turn left, turn right, forward & backward.

Super strong power configuration.

Safeguard battery model to prolong the uses life.

Newly designed super strong crashworthy propeller.
---
Customers also shopped for
This shopping feature will continue to load items. In order to navigate out of this carousel please use your heading shortcut key to navigate to the next or previous heading.
---
---
Have a question?
Find answers in product info, Q&As, reviews
Please make sure that you are posting in the form of a question.
Don't see what you're looking for?
There was a problem completing your request. Please try your search again later.
All
Product Information
Customer Q&A's
Customer Reviews
---
Product description
Eagle LED 3CH RC Helicopter Radio Remote Control X-Large Electric Falcon Heli with Metal Ski
- Experience The Thrill of Solo Flight with Confidence
- Design delivers optimal characteristics for beginners
- Ready to fly, Fully Assembled
- Omni-directional flight: Ascending, descending, turn left, turn right, forward & backward
- Intelligentized R/C system
- High efficient lifelike contour design
- Super strong power configuration
- Full scale remote control
- Adjustable trim control
- 360 degree exact direction
- Smooth hand performance
- Newly designed electricity saving function
- Safeguard battery model to prolong the uses life
- Newly designed super strong crashworthy propeller
- Flight stabilizing system
- Super lightweight airframe
- Brake for easy landing
- Hi-Capacity rechargeable battery and quickly battery charger
- 2 powerful 180 main motors
- Flight Time: 20 minutes
- Charge time: about 3 hours
- Range: 200 feet
- Age: 14+
- Dimension: 26"L x 5"W x 9"H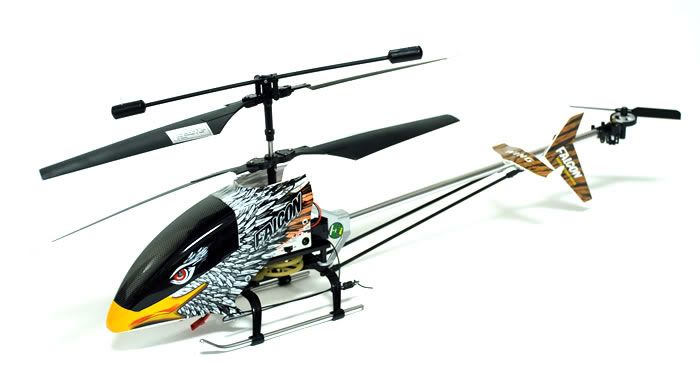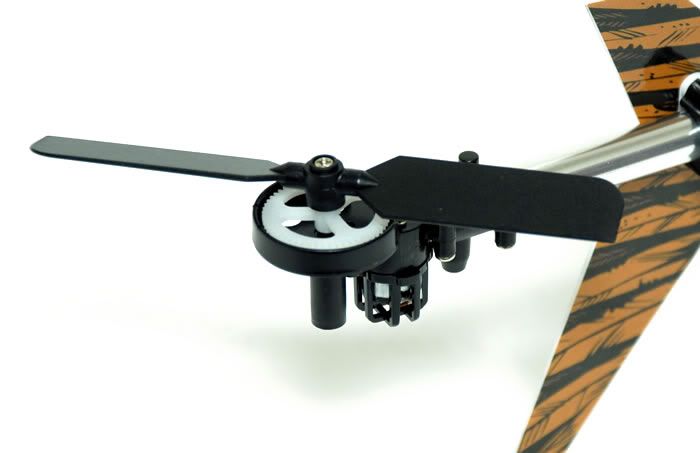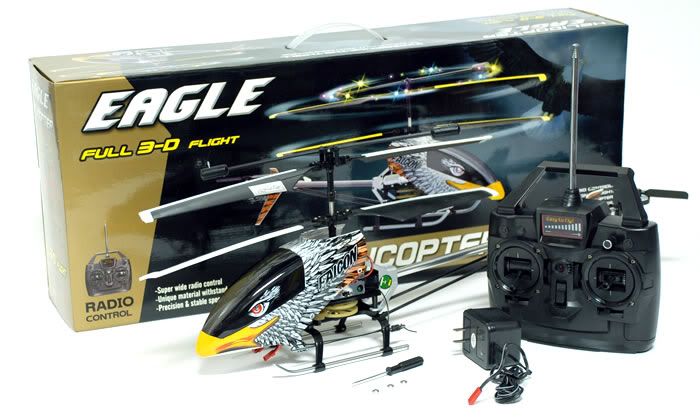 ---
---
Customer Reviews
Top customer reviews
There was a problem filtering reviews right now. Please try again later.
August 23, 2011
i bought this item to have some fun with outside. well if there a little gust of wind you will not be able to fly it. i mean like a house fan on med. i didnt have much fun with this item. so far i have only flown it 3 time. first time i was just getting about 2 feet off the ground and landing it. well i broke 2 rotors when i landed it. the 2 time i got a little higher and the wind took it to my roof at my house and than came crashing down. lost some parts but still flys after replacing a rear rotor (thats why i gave it a 2 on "durable". 3 time i just gave up with it. . . it has been sitting for about a month now.
i have flown gas helicopters out side and never had problems like this before.

do not recommend this item.
August 9, 2010
I bought this heli mainly for the flybar and taillight. I does fill a small niche in that I can fly it in total darkness outside as long as there's less than 3mph wind. Even thought this is a large bird, it does not have the authority to fly in any wind. Also, because of it's size you can do no more than hover indoors. Also, the blades are heavy engough that I'd worry about damaging furniture, windows, etc..
The 4hrs needed to recharge (NiCad Battery) for a 10min flight means this bird is best suited for when you want to do a little different type of flying... along with the rest of your helis. It's simply too long to wait for the batteries to recharge.
I own Syma S022, S024, S107. The S107 is THE BEST heli I currently own for indoor flying. It small, light and durable so you can actually fly indoors, without worring about damaging your flatscreen TV... or the heli.
December 30, 2010
I am soo angry and disappointed with this toy!!! I got this as a christmas gift for my son only to open it up on Christmas morning to discover that the remote control does not work, the helicopter had missing pieces. When I wasn't able to speak with someone about this, I had to play email tag back and forth only to discover that when it was all said and done.... I just donated money to someone else. It was a totally waste of money being that I never saw mines again. My son wants a remote control car from a store now. he doesnt want to hear anything else about a remote control helicopter. What a way to make my single mother hood just that much harder!!
January 2, 2010
We chose the Eagle LED 3 ch RC Helicopter Radio Remote Control 26" Electric Falcon Eagle Model Helicopter because the information on this helicopter promised "Design delivers optimal characteristics for beginners..." and "Unique material withstands crashes", plus it looked awesome. We were so excited to get this helicopter for our son, but it was a HUGE MISTAKE. The packaging says it is great for beginners, but the "eagle" casing is a fragile plastic that broke on it's first landing - and it wasn't even a crash landing!. Next landing the metal landing ski broke off. The ski is metal, but is attached to the helo by very fragile plastic, which is what broke. It still flew without the eagle casing and the landing ski, but on the next landing one of the rotating top blades broke off. This all happened at the hands of my hubby as he was demonstrating for our son before he even got a chance at controlling. It would get good height, then crap out and fall. It was very exciting for all of 15 minutes until it wasn't flyable. 13 yr old's reaction to helo gift on Christmas morning: awesome; Look on face when flying: wonderful; Tears on face when broken: heart breaking; Dad's reaction: unprintable.

Will try to return, but not hopeful, as return instructions say they won't take back items damaged by crashes...
June 17, 2010
The helicopter would not trim due to a bad Reciever/ESC, the tail keep spinning and would not trim out. However, they are suppose to be sending me a replacement part which happen without any problems so that service was good. Hopefully it will fix the problem, I am a little familiar with fixing R/C's so hopefully I will not have any problems replacing the part.
February 15, 2010
We bought this helicopter for my age 40+ son-in-law for Christmas. He was as excited as a kid. It only took a couple of tries to get it flying and he has used it often in the last two months. It does have a short flying time - about 20 minutes - which my daughter said was great because he can't spend ALL his time playing every evening. Several pieces of the body have cracked or broken, but parts are available and inexpensive. I'd recommend it for a teen or adult.
November 12, 2013
The battery will not be able to take the heli off the ground after you recharge them a dozen time because it lose battery capacity. Maybe they should have higher voltage battery to compensate this problem. I recommend a quadcopter it can do flip plus some have camera.